Roof Drains
Roof Drainage
The factors which affect proper roof drainage are deck slope, drain flashing, size and placement of drains.
The full-flow capacity of a drain is not realized until the water reaches approximately 2.5 inches above the inlet in a four-inch drain and 3.5 inches in a six-inch drain.
The sizing of roof drains must be large enough to quickly carry away all water entering the roof drains.Any blockage or restrictions in this system may result in water backing onto the roof membrane. You must check horizontal pipe capacity. For example:a six-inch drain attached to a six-inch horizontal pipewith 1/4-inch slope will only carry 315 gallons perminute (gpm) instead of 563 gpm in the six-inchvertical drain pipe.
When placing roof drains it is good design practice not to locate the drains more than 50 feet from the roof perimeter or more than 100 feet apart.
The primary considerations in designing a roof drainage system are:
The amount of rainfall landing on the roof membrane
How long it rains
The speed at which the rain collects atthe drain
The rainfall reference chart gives the maximum amount of rainfall in inches per hour of the hypothetical "worst storm in the past 100 years," which has a two percent chance of occurring in any given year
Roof Drains and Scuppers for new construction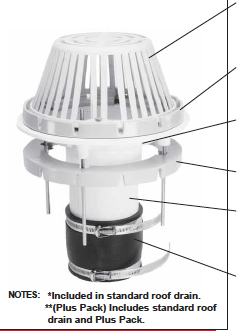 Dome Strainer*
Portals Plus Dome Strainer is epoxy coated die-cast aluminum for longevity. The Dome Strainer bolts securely to clamping collar. (Dome Strainer also available in ultraviolet-stabilized polyethylene)
Clamping Collar/Gravel Guard*
Portals Plus die-cast aluminum epoxy coated Gravel Guardand Clamping Collar is grooved for positive drainage and insures a maximum hold on roofing materials.
Drain Bowl*
Portals Plus Drain Bowls are available in 3", 4" and 6" sizes in Cast Iron; Cast Aluminum; Ultraviolet-stabilized, injection-molded, white PVC; and injection-molded, black ABS.
Underdeck Clamp**
Portals Plus epoxy coated cast aluminum underdeck clamp holds the drain bowl securely to the deck.
Extension**
Portals Plus Extension is a 6" length of schedule 40 pipe that extends the drain bowl down below the deck, to accommodate the expansion coupling (for PVC and ABS Plus Packsonly).
Expansion Coupling**
Portals Plus flexible Expansion Coupling allows for expansion and contraction that enables the installer to connect the drain to various types of piping (two stainless steel clamps included)