Expansion Joint Covers
Expansion Joint Use
Roof Expansion Joints are recommended to be provided for any one or more of the following minimum conditions.
When the roof size exceeds 200 feet in any direction
At all structural expansion or contraction joints
Where the deck material changes, for example from steel to concrete
Where the deck material or structural framing changes direction
Where building wings intersect, such as "U", "T", or "L" shapes
Where interior heating and cooling conditions change, such as between heated and unheated
At all building additions of any shape
Where differential movement between walls and decks may occur
Roof Expansion Joints are recommended to be constructed with raised curb assemblies which canallow adequate base flashing details for the roof system. Raised curb assemblies can be factory fabricated of galvanized steel to suit all project conditions which expedites and unifies project design and installation as opposed to traditional wood curbs which require extensive field installation time andthorough inspection of construction and attachment.
Over the raised curb assemblies, or at low profile expansion assemblies, the Portals Plus Expansion Joint Covers provide superior watertight integrity. Along with the standard cover profiles of Curb Flange,Combination Curb & Straight Flange, and Straight Flange, Portals Plus offers factory manufactured accessories available to suit virtually any project condition. The most common accessories are Cor-ners, Intersections, and Ends. All factory manufactured accessories are custom made to suit each individual project's conditions, thereby assuring clean seam lines, continuity of joint material, and water-tight integrity when properly spliced with Portals Plus standard splice kits. Contact Portals Plus for questions regarding any special details or applications.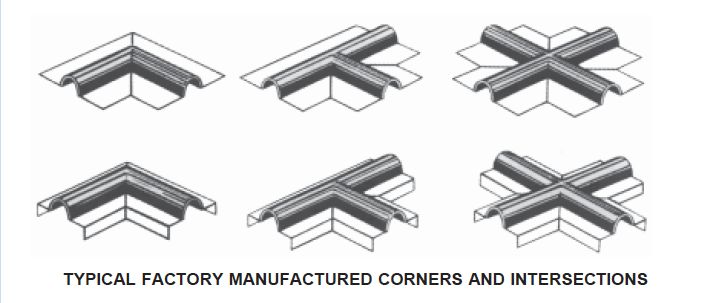 The solution for sealing building joints
Expansion Joint Covers are factory-manufactured flexible, weather proof, exterior covers for structural expansion joint openings, and are effective, closures for a wide variety of special applications. Manufactured of a unique 3-ply flexible reinforced EPDM bellow supported by a durable closed cell foam, which allows for anticipated movement in the structure, and metal mounting flanges factory locked to each edge of the bellow. Expansion Joint Covers with reinforced EPDM bellow withstand the most extreme chemical and weather conditions without leakage. Factory-manufactured fitting accessories (corners, tees,end terminations, and crossover intersections) are designed for maximum flexibility and are producedusing special techniques to ensure clean seam lines and watertight applications. Field seams are easily accomplished with standard splice kits. For use with all types of roofing, including asphalt, coal tar bitumen, modified bitumen, EPDM, TPO, PVC, Hypalon and most others. Replaces easily torn non-reinforced EPDM and Neoprene covers and easily damaged, bent, and leaky metal covers.
Bellow available in the following standard widths- 4", 5", 6", 8", 10", and 12"Flanges available in the following standard materials- Galvanized Steel, Aluminum, Stainless Steel, and Copper