Cast Iron Drain and Plus Pack
Furnish and install the Portals Plus, Inc. Roof Drainwith Plus Pack, at all drain openings as specified on drawings.
Drain shall consist of a molded ultraviolet stabilized polyethylene dome strainer
A cast aluminum epoxy coated gravel guard and clamping ring, a cast iron drain body
A cast aluminum underdeck clamp
A flexible EPDM connector with stainless steel clamps.
Attachment and installation shall be done in accordance with Portals Plus' instructions and the roofing membrane manufacturer's recommendations.
Available in 3", 4" and 6"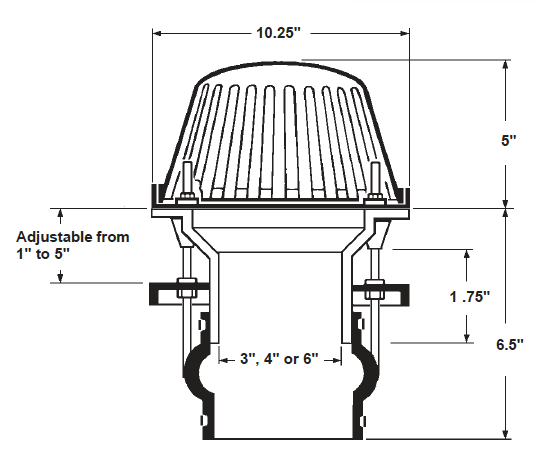 Cast Iron Roof Drains
| Part # | Description | Will Fit I.D. | QTY/CTN |
| --- | --- | --- | --- |
| 62501 | CAST DRAIN W/ PLASTIC DOME | 3 | 1 |
| 62541 | CAST DRAIN W/ ALUMINUM DOME | 3 | 1 |
| 62511 | CAST DRAIN W/ PLASTIC DOME | 4 | 1 |
| 62551 | CAST DRAIN W/ ALUMINUM DOME | 4 | 1 |
| 62531 | CAST DRAIN W/ PLASTIC DOME | 6 | 1 |
| 62571 | CAST DRAIN W/ ALUMINUM DOME | 6 | 1 |
Cast Iron Plus Pack Roof Drains
| Part # | Description | Will Fit I.D. | QTY/CTN |
| --- | --- | --- | --- |
| 62601 | CAST PLUS PACK W/ PLASTIC DOME | 3 | 1 |
| 62641 | CAST PLUS PACK W/ ALUMINUM DOME | 3 | 1 |
| 62611 | CAST PLUS PACK W/ PLASTIC DOME | 4 | 1 |
| 62651 | CAST PLUS PACK W/ ALUMINUM DOME | 4 | 1 |
| 62631 | CAST PLUS PACK W/ PLASTIC DOME | 6 | 1 |
| 62671 | CAST PLUS PACK W/ ALUMINUM DOME | 6 | 1 |