PVC White ReRoof Drain
Drain shall consist of a molded ultraviolet stabi-lized polyethylene or cast aluminum dome strainer
A cast aluminum epoxy coated gravel guard and clamping ring
14" O.D. injection molded ultraviolet stabilized white PVC drain flange for use with hot air and chemically welded roof systems with top rib flashing lock.
The outlet pipe shall have a precompressed modified asphalt impregnated expanding foam, sealing tape, having a tempera-ture range of -40 F to +185 F and 150% minimum elongation.
Available in 3", 4", 5" and 6"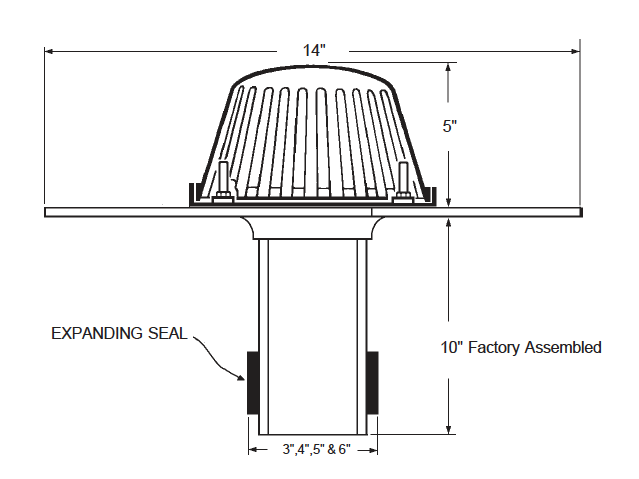 White
| Part # | Description | Will Fit I.D. | QTY/CTN |
| --- | --- | --- | --- |
| 65501 | PVC WHITE REROOF W/ PLASTIC DOME | 3 | 1 |
| 65541 | PVC WHITE REROOF W/ ALUMINUM DOME | 3 | 1 |
| 65511 | PVC WHITE REROOF W/ PLASTIC DOME | 4 | 1 |
| 65551 | PVC WHITE REROOF W/ ALUMINUM DOME | 4 | 1 |
| 65521 | PVC WHITE REROOF W/ PLASTIC DOME | 5 | 1 |
| 65561 | PVC WHITE REROOF W/ ALUMINUM DOME | 5 | 1 |
| 65531 | PVC WHITE REROOF W/ PLASTIC DOME | 6 | 1 |
| 65571 | PVC WHITE REROOF W/ ALUMINUM DOME | 6 | 1 |