ABS ReRoof Drain
Drain shall consist of a molded ultraviolet stabi-lized polyethylene or cast aluminum dome strainer
A cast aluminum epoxy coated gravel guard and clamping ring,
14" O.D. injection molded ultravio-let stabilized black ABS drain flange with top rib flashing lock.
The outlet pipe shall have a precompressed modified asphalt impregnated expanding foam, sealing tape, having a temperature range of -40 F to +185 F and 150% minimumelongation.
Available in 3", 4", 5" and 6"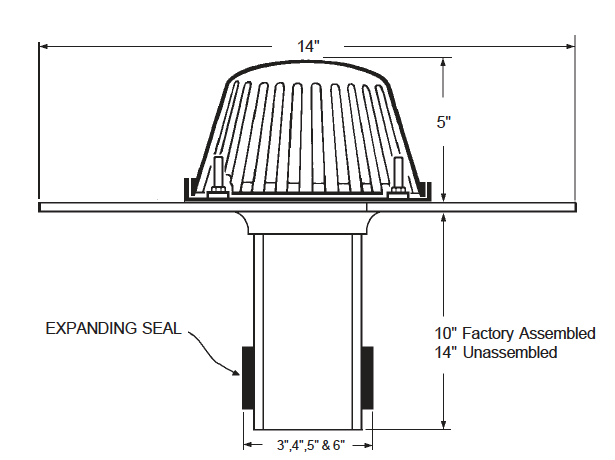 Assembled
| Part # | Description | Will Fit I.D. | QTY/CTN |
| --- | --- | --- | --- |
| 65001 | ABS ASSEMBLED- w/ PLASTIC DOME | 3 | 1 |
| 65041 | ABS ASSEMBLED- w/ ALUMINUM DOME | 3 | 1 |
| 65011 | ABS ASSEMBLED- w/ PLASTIC DOME | 4 | 1 |
| 65051 | ABS ASSEMBLED- w/ ALUMINUM DOME | 4 | 1 |
| 65021 | ABS ASSEMBLED- w/ PLASTIC DOME | 5 | 1 |
| 65061 | ABS ASSEMBLED- w/ ALUMINUM DOME | 5 | 1 |
| 65031 | ABS ASSEMBLED- w/ PLASTIC DOME | 6 | 1 |
| 65071 | ABS ASSEMBLED- w/ ALUMINUM DOME | 6 | 1 |
Unassembled
| Part # | Description | Will Fit I.D. | QTY/CTN |
| --- | --- | --- | --- |
| 65101 | ABS UNASSEMBLED- w/ PLASTIC DOME | 3 | 1 |
| 65141 | ABS UNASSEMBLED- w/ ALUMINUM DOME | 3 | 1 |
| 65111 | ABS UNASSEMBLED- w/ PLASTIC DOME | 4 | 1 |
| 65151 | ABS UNASSEMBLED- w/ ALUMINUM DOME | 4 | 1 |
| 65121 | ABS UNASSEMBLED- w/ PLASTIC DOME | 5 | 1 |
| 65161 | ABS UNASSEMBLED- w/ ALUMINUM DOME | 5 | 1 |
| 65131 | ABS UNASSEMBLED- w/ PLASTIC DOME | 6 | 1 |
| 65171 | ABS UNASSEMBLED- w/ ALUMINUM DOME | 6 | 1 |