Curb Flange
The expansion joint covers shall be factory manu-factured of 3-ply, reinforced EPDM bellow with laminated closed-cell foam backing.
Bellow shall be factory double-locked to galvanized steel flanges along the two long edges, double-locked to aluminumflanges along the two long edges or double-locked to stainless steelflanges along the two long edges.
The flanges shall be factory fabricated with an integral counter flashing and drip edge at the bottom for all curb applications- at walls use standard combination curb and straight flange units.
All fittings and accessories (corners, tees, closures, etc.)shall be manufactured by Portals Plus, Inc. tosuit the project conditions.
Install all units in the longest continuous lengths possible.
All splices must be completed using Portals Plus standard splice kits.
Installation and attachment of the expansion joint covers shall be in accordance with Portals Plus' instructions and the roofing membrane manufacturer's recommendations.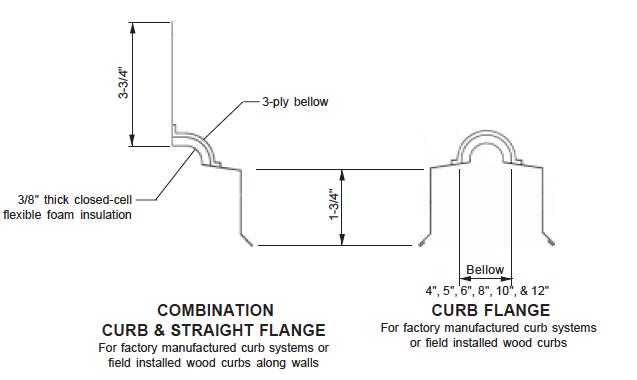 Curb Flange
| Part # | Description | QTY/CTN |
| --- | --- | --- |
| 95009 | GALVANIZED FLANGES W/ 4" EPDM BELLOW | 10 |
| 95109 | GALVANIZED FLANGES W/ 5" EPDM BELLOW | 10 |
| 95209 | GALVANIZED FLANGES W/ 6" EPDM BELLOW | 10 |
| 95309 | GALVANIZED FLANGES W/ 8" EPDM BELLOW | 10 |
| 95005 | GALVANIZED FLANGES W/ 10" EPDM BELLOW | 5 |
| 95105 | GALVANIZED FLANGES W/ 12" EPDM BELLOW | 5 |
| 95409 | ALUMINUM FLANGES W/ 4" EPDM BELLOW | 10 |
| 95509 | ALUMINUM FLANGES W/ 5" EPDM BELLOW | 10 |
| 95609 | ALUMINUM FLANGES W/ 6" EPDM BELLOW | 10 |
| 95709 | ALUMINUM FLANGES W/ 8" EPDM BELLOW | 10 |
| 95205 | ALUMINUM FLANGES W/ 10" EPDM BELLOW | 5 |
| 95305 | ALUMINUM FLANGES W/ 12" EPDM BELLOW | 5 |
| 95809 | STAINLESS FLANGES W/ 4" EPDM BELLOW | 10 |
| 95909 | STAINLESS FLANGES W/ 5" EPDM BELLOW | 10 |
| 95119 | STAINLESS FLANGES W/ 6" EPDM BELLOW | 10 |
| 95129 | STAINLESS FLANGES W/ 8" EPDM BELLOW | 10 |
| 95405 | STAINLESS FLANGES W/ 10" EPDM BELLOW | 5 |
| 95505 | STAINLESS FLANGES W/ 12" EPDM BELLOW | 5 |
| 95139 | COPPER FLANGES W/ 4" EPDM BELLOW | 10 |
| 95149 | COPPER FLANGES W/ 5" EPDM BELLOW | 10 |
| 95159 | COPPER FLANGES W/ 6" EPDM BELLOW | 10 |
| 95169 | COPPER FLANGES W/ 8" EPDM BELLOW | 10 |
| 95605 | COPPER FLANGES W/ 10" EPDM BELLOW | 5 |
| 95705 | COPPER FLANGES W/ 12" EPDM BELLOW | 5 |
ALL CURB FLANGE COVERS ARE PACKAGED IN 10 FOOT LONG PIECES PER CARTON
Curb Flange Optional Components
Corner
| Part # | Description | QTY/CTN |
| --- | --- | --- |
| 95001 | GALVANIZED FLANGES W/ 4" EPDM BELLOW | 1 |
| 95011 | GALVANIZED FLANGES W/ 5" EPDM BELLOW | 1 |
| 95021 | GALVANIZED FLANGES W/ 6" EPDM BELLOW | 1 |
| 95031 | GALVANIZED FLANGES W/ 8" EPDM BELLOW | 1 |
| 95041 | GALVANIZED FLANGES W/ 10" EPDM BELLOW | 1 |
| 95051 | GALVANIZED FLANGES W/ 12" EPDM BELLOW | 1 |
| 95061 | ALUMINUM FLANGES W/ 4" EPDM BELLOW | 1 |
| 95071 | ALUMINUM FLANGES W/ 5" EPDM BELLOW | 1 |
| 95081 | ALUMINUM FLANGES W/ 6" EPDM BELLOW | 1 |
| 95091 | ALUMINUM FLANGES W/ 8" EPDM BELLOW | 1 |
| 95101 | ALUMINUM FLANGES W/ 10" EPDM BELLOW | 1 |
| 95201 | ALUMINUM FLANGES W/ 12" EPDM BELLOW | 1 |
| 95301 | STAINLESS FLANGES W/ 4" EPDM BELLOW | 1 |
| 95401 | STAINLESS FLANGES W/ 5" EPDM BELLOW | 1 |
| 95501 | STAINLESS FLANGES W/ 6" EPDM BELLOW | 1 |
| 95601 | STAINLESS FLANGES W/ 8" EPDM BELLOW | 1 |
| 95701 | STAINLESS FLANGES W/ 10" EPDM BELLOW | 1 |
| 95801 | STAINLESS FLANGES W/ 12" EPDM BELLOW | 1 |
| 95901 | COPPER FLANGES W/ 4" EPDM BELLOW | 1 |
| 95111 | COPPER FLANGES W/ 5" EPDM BELLOW | 1 |
| 95211 | COPPER FLANGES W/ 6" EPDM BELLOW | 1 |
| 95311 | COPPER FLANGES W/ 8" EPDM BELLOW | 1 |
| 95411 | COPPER FLANGES W/ 10" EPDM BELLOW | 1 |
| 95511 | COPPER FLANGES W/ 12" EPDM BELLOW | 1 |
ALL CURB FLANGE COVERS ARE PACKAGED IN 10 FOOT LONG PIECES PER CARTON
Crossover
| Part # | Description | QTY/CTN |
| --- | --- | --- |
| 95611 | GALVANIZED FLANGES W/ 4" EPDM BELLOW | 1 |
| 95711 | GALVANIZED FLANGES W/ 5" EPDM BELLOW | 1 |
| 95811 | GALVANIZED FLANGES W/ 6" EPDM BELLOW | 1 |
| 95911 | GALVANIZED FLANGES W/ 8" EPDM BELLOW | 1 |
| 95121 | GALVANIZED FLANGES W/ 10" EPDM BELLOW | 1 |
| 95131 | GALVANIZED FLANGES W/ 12" EPDM BELLOW | 1 |
| 95141 | ALUMINUM FLANGES W/ 4" EPDM BELLOW | 1 |
| 95151 | ALUMINUM FLANGES W/ 5" EPDM BELLOW | 1 |
| 95161 | ALUMINUM FLANGES W/ 6" EPDM BELLOW | 1 |
| 95171 | ALUMINUM FLANGES W/ 8" EPDM BELLOW | 1 |
| 95181 | ALUMINUM FLANGES W/ 10" EPDM BELLOW | 1 |
| 95191 | ALUMINUM FLANGES W/ 12" EPDM BELLOW | 1 |
| 95221 | STAINLESS FLANGES W/ 4" EPDM BELLOW | 1 |
| 95231 | STAINLESS FLANGES W/ 5" EPDM BELLOW | 1 |
| 95241 | STAINLESS FLANGES W/ 6" EPDM BELLOW | 1 |
| 95251 | STAINLESS FLANGES W/ 8" EPDM BELLOW | 1 |
| 95261 | STAINLESS FLANGES W/ 10" EPDM BELLOW | 1 |
| 95271 | STAINLESS FLANGES W/ 12" EPDM BELLOW | 1 |
| 95281 | COPPER FLANGES W/ 4" EPDM BELLOW | 1 |
| 95291 | COPPER FLANGES W/ 5" EPDM BELLOW | 1 |
| 95321 | COPPER FLANGES W/ 6" EPDM BELLOW | 1 |
| 95331 | COPPER FLANGES W/ 8" EPDM BELLOW | 1 |
| 95341 | COPPER FLANGES W/ 10" EPDM BELLOW | 1 |
| 95351 | COPPER FLANGES W/ 12" EPDM BELLOW | 1 |
ALL CURB FLANGE CROSSOVERS ARE PACKAGED 1 PIECE PER CARTON
Tee
| Part # | Description | QTY/CTN |
| --- | --- | --- |
| 95361 | GALVANIZED FLANGES W/ 4" EPDM BELLOW | 1 |
| 95371 | GALVANIZED FLANGES W/ 5" EPDM BELLOW | 1 |
| 95381 | GALVANIZED FLANGES W/ 6" EPDM BELLOW | 1 |
| 95391 | GALVANIZED FLANGES W/ 8" EPDM BELLOW | 1 |
| 95421 | GALVANIZED FLANGES W/ 10" EPDM BELLOW | 1 |
| 95431 | GALVANIZED FLANGES W/ 12" EPDM BELLOW | 1 |
| 95441 | ALUMINUM FLANGES W/ 4" EPDM BELLOW | 1 |
| 95451 | ALUMINUM FLANGES W/ 5" EPDM BELLOW | 1 |
| 95461 | ALUMINUM FLANGES W/ 6" EPDM BELLOW | 1 |
| 95471 | ALUMINUM FLANGES W/ 8" EPDM BELLOW | 1 |
| 95481 | ALUMINUM FLANGES W/ 10" EPDM BELLOW | 1 |
| 95491 | ALUMINUM FLANGES W/ 12" EPDM BELLOW | 1 |
| 95521 | STAINLESS FLANGES W/ 4" EPDM BELLOW | 1 |
| 95531 | STAINLESS FLANGES W/ 5" EPDM BELLOW | 1 |
| 95541 | STAINLESS FLANGES W/ 6" EPDM BELLOW | 1 |
| 95551 | STAINLESS FLANGES W/ 8" EPDM BELLOW | 1 |
| 95561 | STAINLESS FLANGES W/ 10" EPDM BELLOW | 1 |
| 95571 | STAINLESS FLANGES W/ 12" EPDM BELLOW | 1 |
| 95581 | COPPER FLANGES W/ 4" EPDM BELLOW | 1 |
| 95591 | COPPER FLANGES W/ 5" EPDM BELLOW | 1 |
| 95621 | COPPER FLANGES W/ 6" EPDM BELLOW | 1 |
| 95631 | COPPER FLANGES W/ 8" EPDM BELLOW | 1 |
| 95641 | COPPER FLANGES W/ 10" EPDM BELLOW | 1 |
| 95651 | COPPER FLANGES W/ 12" EPDM BELLOW | 1 |
ALL CURB FLANGE TEES ARE PACKAGED 1 PIECE PER CARTON
NOTE: 10" & 12" BELLOW WIDTH SPECIAL ORDER ONLY CONSULT FACTORY FOR AVAILABILITY