Snaplock Clamp
Furnish and install SNAPLOCK Stainless Steel Clamp Band at all penetrations on the roof, walls, and floors or as shown on drawings.
The Snaplock Clamp Band shall be constructed with a stainless steel band and housing, zinc-plated, yellow chromate, carbon steel bridge and .3125" screw.
Clamp band shall conform to all drawings shown.
Clamp Diameters
| | English (inches) | | Metric (mm) | |
| --- | --- | --- | --- | --- |
| Part # | Min | Max | Min | Max |
| 49008 | 0.75 | 1.75 | 19 | 44 |
| 49018 | 0.875 | 2.75 | 23 | 70 |
| 49028 | 1 | 4 | 26 | 100 |
| 49038 | 2 | 6 | 51 | 152 |
| 49048 | 2 | 7 | 51 | 176 |
| 49058 | 2.3125 | 8.5 | 60 | 215 |
| 49068 | 1.75 | 15 | 42 | 378 |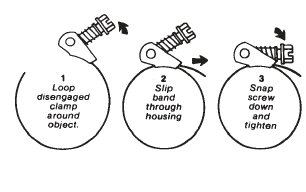 | Part # | Description | QTY/CTN |
| --- | --- | --- |
| 49008 | 3/4"- 1 3/4" CLAMP | 50 |
| 49018 | 7/8" - 2 3/4" CLAMP | 50 |
| 49028 | 1" - 4" CLAMP | 50 |
| 49038 | 2" - 6" CLAMP | 50 |
| 49048 | 2" - 7" CLAMP | 50 |
| 49058 | 2 5/16" - 8 1/2" CLAMP | 25 |
| 49068 | 1 3/4" - 15" CLAMP | 25 |